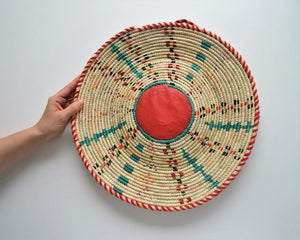 Traditional woven basket (Siwa)
Regular price
€32.00
Sale price
€37.00
Tax included.
One of a kind handwoven decor plate from Egypt.

This plate is made using palm leaves and the center is genuine leather. Authentic art from Egyptian desert inhabitants.

Unique large Egyptian Decor Plate, Wall Art, Wall Hanging, Handmade woven, Bohemian decor, TRIBAL, Egyptian heritage, Palm leaves, Sahara

✓ Uses: Wall Decor, Wall art, Bohemian design, Tribal interiors, Wedding gift.
✓ Style: Bohemian, Simple, Geometric, Sahara, Berber, Moroccan, Egyptian, Islamic.

Size: Diameter 30 cm (12"), Height 4 cm (1.5").

Material: palm leaves taken from palm dates trees and dates raceme. 

Method: Hand weaving old Egyptian technique.

Easy Care: Can be cleaned with a damp cloth and then let to dry.
Shipping info: Delivery time: EU (3-5 days), US (5-7 days).
Shipping with Registered mail.

Any Question: Please contact us for any inquiry on our email omar@omarhandmade.com
---
More from this collection